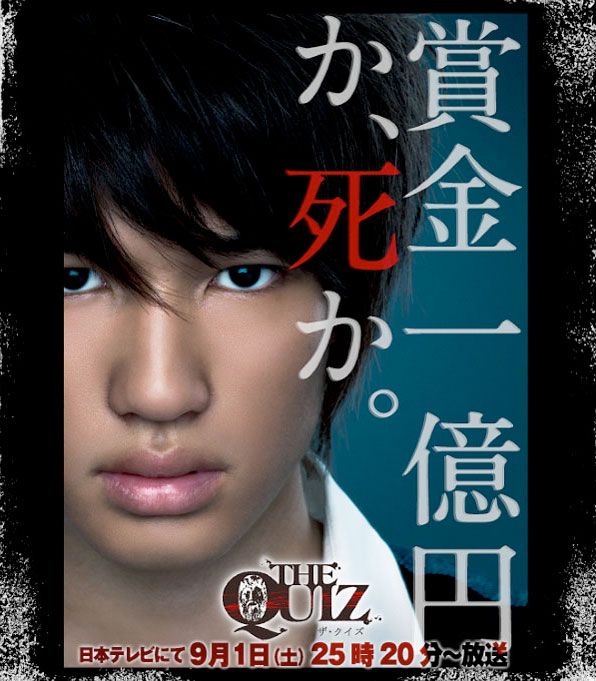 Date: From 1.20 a.m., 1 September 2012
Station: NTV
Cast: Lewis Jesse, Yamashita Rio, Hagiya Keigo, Iwamoto Hikaru, Yamamoto Mizuki, Fujii Shuka, Okuno Eita, Omura Saako, DJ Hide, Techimu, Yasuda Ken
Synopsis: Prize money of 100 million yen for the winner. Lured by these words, third year Keisei University students Kasama Shota (Lewis Jesse) and Soegawa Haruna (Yamashita Rio) apply for the audience participation TV quiz programme. Shota, Haruna and eight others including Maths Olympiad gold medalist Kose Tsubasa (Okuno Eita), graduate school students Arisato Hitomi (Yamamoto Mizuki), Soke Aimi (Omura Saako) and Shiotani Kazuhiko (DJ Hide) successfully make it through the preliminaries and are assembled at an empty studio. Everyone is excited about the 100 million yen prize money. However, what awaits them is a brutal game presided over by the cool, intellectual host Fujio Kohei (Yasuda Ken) who is in fact the poster child of a major IT company. Contestants cannot contact the outside world, and if their answer is wrong, a death game begins in which they are made to drink a slow-acting poison that will kill them three hours later. Only the last person standing will be given the antidote. Amidst the fear of death, different characters emerge … a female who entraps others … a male who smacks of hypocrisy. A fierce battle ensues.
Official Website: www.ntv.co.jp/thequiz
All text copyright © jdramas.wordpress.com.