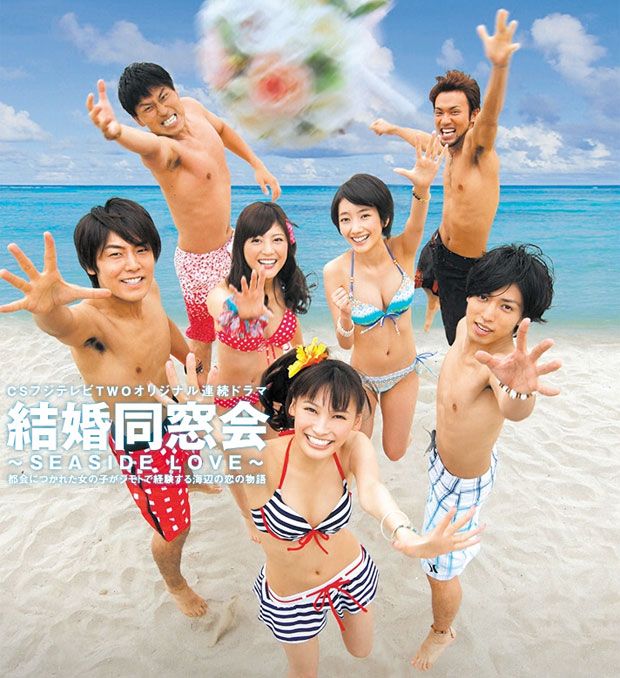 Official Website
www.fujitv.co.jp/otn/kekkon-dousoukai
Broadcast
Mondays, 10.10 – 10.55 p.m. from 23 July 2012
Station
Fuji 2
Story
Aiba Mion, 25, came up to Tokyo from the countryside. After graduating from university, she scored a full-time post at a Tokyo apparel company and was assigned to be a shop employee. Mion's goal is to be in Tokyo's hippest set. She is supposed to be enjoying life everyday with her beautiful colleagues and latest fashionable clothes. Her take-home pay is 150,000 yen. There is not much left after paying rent and having a bit of fun. Each day she eats beef-rice bowls and rides a bicycle to work. Then, there are the matchmaking parties with men who pay for her. In the midst of this, she has an epiphany. She has to catch a rich man and marry him in order to get out of this life. However, a doctor that she takes a fancy to bluntly refuses her because they live in different worlds. A depressed Mion is dealt a further blow when she reaches a dead end in her job. One day, Mion receives an invitation card for a junior high school class reunion with the "Glorious Seven" who won the swimming marathon in a prefectural tournament 10 years ago. She has high hopes for the reunion with these classmates, reasoning that if she is looking for a marriage partner, her hometown is the place after all. It would not involve money or competition and with luck, the partner would have a house and also be a friend who truly understands her. And so she departs for this class reunion in search of a marriage partner. Living up to their promise, the former "Glorious Seven" are as cool as usual among the handsome boys who have become middle-aged men and the stooges who have made their way in life. In particular, each of the four men shine, and Mion feels that she has difficulty choosing between them. That night, she is suddenly kissed by the handsome Honda Ryusei who had guided the team to victory as its captain back then. However, right after that she learns a shocking truth … … Furthermore, she discovers that each of her friends actually have their own bleakness even though they appear at peace and happy. Will Mion be able to find the best marriage partner in her hometown?
Cast
* Omasa Aya as Aiba Mion
* Fukushi Seiji as Honda Ryusei
* Kiriyama Ren as Miyamoto Haruto
* Haru as Natsume Renka
* Sato Arisa as Minesawa Yuki
* Ozawa Yuta as Ushiki Sota
* Kasuga Toshiaki as Nakaido Ken
All text copyright © jdramas.wordpress.com.