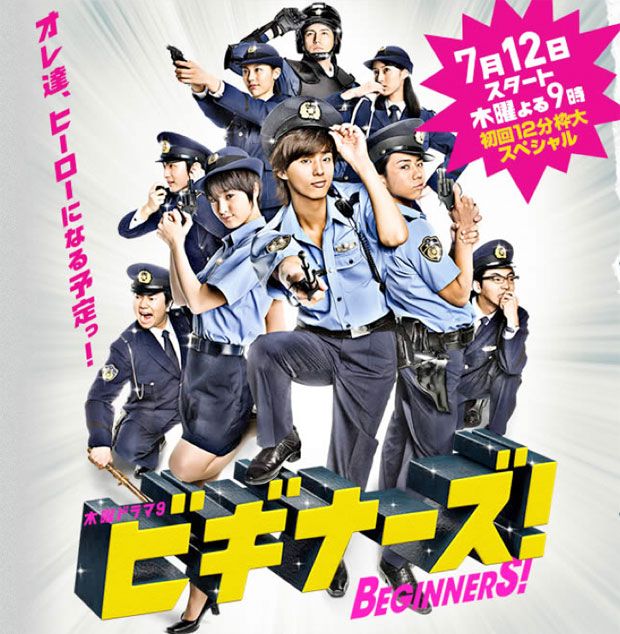 Official Website
www.tbs.co.jp/beginners2012
Broadcast
Thursdays, 9.00 – 9.54 p.m. from 12 July 2012
Station
TBS
Story
As a child, Shimura Teppei grew up watching his father, a police officer, escort marathons on his police motorcycle, and dreamt of becoming a marathon runner. However, his father's unemployment and subsequent disappearance as well as his own injuries, caused him to live dissolutely and he became a well-known delinquent. In the midst of this, Teppei chose to become a police officer under the influence of his childhood friend, Onda Yuichi, after graduating from high school. He miraculously passed the entry exam and is to enter the police academy this summer. However, on the first day of school, he suddenly oversleeps and arrives late. He heads to Class S, but it turns out to be a pre-fabricated hut in a corner of the rooftop. There are eight students in the classroom. Among them are Tachibana Danji, Momoe Hiro and also Yuichi. Soon after Teppei takes a seat, the instructor Sakuraba Naoki and assistant instructor Ryuzaki Misaki appear. However, Misaki calls Teppei by name, and suddenly slaps him in the face in front of everyone, and scolds him for being late. Although beautiful, Misaki is scary like a demon, and her behaviour terrifies the students. From day one, they are ordered by Misaki to weed the grounds of the academy for the whole day. But that is just the beginning of her harsh training. Class S is ordered to sweep the grounds every single day since they entered the academy. Teppei vents his frustrations. However, he is told by Misaki that Class S is in fact a collection of "reserves" that do not pass the acceptability criterion. This news stuns him. And so, their rough police academy life begins.
Characters
Fujigaya Taisuke as Shimura Teppei
The 148th batch of Kanagawa Prefectural Police Academy's students, and leader of Class S (Sakuraba's Classroom). A cheerful guy who easily gets carried away. During his childhood, he idolised his father who was a police officer. Seeing his father escort marathons on the police motorcycle made him aspire to be a marathon runner. However, an injury sustained during a match in the high school he had entered on consideration of his sporting ability, put an end to life as an athlete. After that, he gradually strayed and became a well-known delinquent in his hometown. He and his younger sister are now in the charge of their maternal uncle and his wife who run a sushi shop. He mends his friendship with childhood friend Onda Yuichi and choose to become a police officer together with Yuichi.
Kitayama Hiromitsu as Tachibana Danji
He grew up in a wealthy family and lives a life of luxury, but because he was in poor health during junior high school, he had to skip school. Despite his outstanding academic results, he enrolled with a distance learning school after graduating from junior high school. Certain that his path is that of a police officer, he passed the university entrance qualification examination and qualified for the police academy. Because he partly attended junior high school, he is not good at socialising and is poor with girls, Furthermore, the discord between his parents makes him feel distant from them.
Goriki Ayame as Momoe Hiro
She grew up carefree, surrounded by a taciturn by kind father and humourous mother. As a child, she had such a mischievous personality that she was mistaken for a boy. There are still some traces of it now. Focusing on graduating from high school, she chooses to attend the police academy which pays her as she studies so that she will not be a burden to her family which runs their own business. It is the first time she has lived outside of Shizuoka. However, she does not clearly know her motivation for applying to be a police officer and still has doubts about becoming one. Because of her cheerful, sociable personality, she is friendly with everyone, but is a late bloomer in the area of romance.
Ishida Hikari as Ryuzaki Misaki
A Kanagawa Prefectural Police Academy instructor. The assistant instructor for Class S. Her dignified beauty makes it difficult to imagine that she is a demonic sergeant who is tough on students. Although she is an assistant instructor, she is more passionate than the instructor Sakuraba Naoki about training their charges. Originally in the position of an instructor, she was appointed the assistant instructor of Class S by the director Takamura Kotaro, to support Sakuraba. She is unhappy to be charged with this position, in addition to a class of losers. Furthermore, because Misaki gave up the post of detective for personal reasons, her desire for these students to mature, is stronger than anyone else. Incidentally, she is a single mother.
Sugimoto Tetta as Sakuraba Naoki
A Kanagawa Prefectural Police Academy instructor. The instructor for Class S (Sakuraba Classroom). His stance is the total opposite of assistant instructor Ryuzaki Misaki. He does not like to coerce students, and is basically an unremarkable person with a laissez-faire approach. This attitude is a anomaly in a police academy with strict discipline. An eccentric who moved what should be his own desk in the staff room to the infirmary and performs all tasks in there. Some of the instructors mock him for being a "unenthusiastic burnout teacher", but Sakuraba's goal is to develop his students' abilities by carefully observing every student. In fact, before he became a police academy instructor, he was a formidable detective who worked his way through the ranks and cracked many difficult cases.
Kaga Takeshi as Takamura Kotaro
The head of Kanagawa Prefectural Police Academy. That is, the
director of the academy. Rank: Chief Superintendent. Formerly the head of the Kanagawa Prefectural Police's First Investigative Division, he had been an outstanding detective and organisation man who headed investigations into vicious crimes such as murders and robberies. But this spring, he was assigned to be the director of the police academy as a result of a personnel reshuffle. He understands that this reshuffle is a promotion, so to speak, and is a necessary path for career advancement in the police organisation. Takamura himself uses
what seems like his motivations as an organisation man and his official position to urge the instructors to sieve out people ill suited to be police officers through the academy and make them leave. Incidentally, he and Sakuraba Naoki were boss and subordinate during their days in the First Investigative Division.
All text copyright © jdramas.wordpress.com.