Before WOWOW became the drama juggernaut that we now know, the satellite television broadcaster made several drama specials which it started to broadcast from 2003. For the month of July and August, WOWOW has lined up five gems from among the early DramaW works that have won drama awards: Sensei no Kaban, Riyu, Shindo 0, 4Teen and Sokoku, dubbing them the origin of new dramas as it celebrates its tenth year. These will air every Sunday over a period of five weeks, beginning with Sensei no Kaban on 15 July.
WOWOW dramas have come to be recognised as better quality productions than those of commercial TV stations. But while many of its recent dramas have had the right ingredients: cast, plot and production crew, they have either tended to start off strong and fizzle out toward the end, or been middling throughout. Still, what better choice than a dose of WOWOW?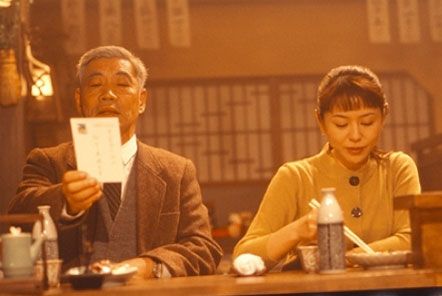 Sensei no Kaban
Date: 15 July 2012 (first aired in 2003)
Cast: Koizumi Kyoko, Emoto Akira, Toyohara Kosuke, Moto Fuyuki, Kiki Kirin, Kato Haruko, Kiuchi Midori, Takenaka Naoto, Edo Yamaguchi, Ebisu Yoshikazu, Yotsuya Shimon, Miki Satsuki, Nishimuta Megumi, Moro Morooka
Synopsis: 37-year-old Omachi Tsukiko (Koizumi Kyoko) lives alone. A female whose style is to take things in stride, she enjoys drinking Japanese rice wine with delicious snacks on her own. One day, an elderly man calls Tsukiko over at her favourite pub. He was her Japanese language teacher back in high school, Matsumoto Harutsuna (Emoto Akira). Despite their 30-year age gap, the two of them are very similar in their love of snacking with their drinks, maintaining their distance with people and stubborn personalities. They frequently spend time together, and before Tsukiko realises it, an irrepressible love for her teacher grows within her … …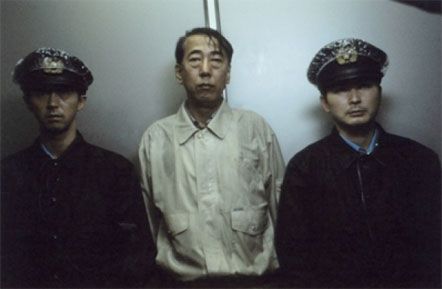 Riyuu
Date: 22 July 2012 (first aired in 2004)
Cast: Kishibe Ittoku, Emoto Akira, Kotegawa Yuko, Fubuki Jun, Hisamoto Masami, Tatekawa Danshi, Ei Rokusuke, Kataoka Tsurutaro, Katsuno Hiroshi, Kobayashi Nenji, Kobayashi Satomi, Ito Ayumi, Kase Ryo, Matsuda Miyuki, Miyazaki Aoi, Watanabe Eriko, Minamida Yoko, Yanagisawa Shingo, Shimazaki Wakako, Ishibashi Nenji, Akaza Miyoko, Takahashi Kaori, Hosho Mai, Yuki Nae, Sugai Kin, Maro Akaji, Minegishi Toru, Matsuda Yoji, Negishi Toshie, Murata Takehiro, Yamada Tatsuo, Owada Shinya, Hidari Tokie, Irie Wakaba, Yamamoto Shinya, Watanabe Hiroyuki, Shimada Kyusaku, Nakae Yuri
Synopsis: On the night of a typhooon, four men and women are brutally killed in a high-rise apartment building. The victims are thought to be a family, but are in fact determined to be complete strangers. The investigation plunges into chaos. Who were the four that were killed? How did this murder happen? Why? Like it or not, ordinary people get involved in the case. Before long, the shocking truth comes to light as the witness statements pile in … …
Shindo 0
Date: 29 July 2012 (first aired in 2007)
Cast: Kamikawa Takaya, Kunimura Jun, Watanabe Ikkei, Masu Takeshi, Saito Satoru, Yajima Kenichi, Matsushige Yutaka, Hirayama Aya, Toda Naho, Nishimura Masahiko, Yo Kimiko
Synopsis: On 17 January 1995, the day of the Great Hanshin Earthquake, an incident occurs at a precinct of the prefectural police. It is the disappearance of Fuwa Yoshihito (Nishimura Masahiko), the head of the Police Affairs Division. Fuyuki Yuichi (Kamikawa Takaya) is informed by Fuwa's wife, Shizue (Yo Kimiko). While the six top officials of the prefectural police work out the search, Fujimaku Akinobu (Kunimura Jun), who worked his way up the ranks, goes all out to get at the truth before the elite Fuyuki. As the six men's anticipation of promotion and post-retirement jobs become intertiwned, Fuwa's disappearance starts to take an unexpected turn … …
4Teen
Date: 5 August 2012 (first aired in 2004)
Cast: Kadota Shintaro, Wakaba Ryuya, Ochiai Motoki, Emoto Tokio, Hanae, Hotohara Toru, Terajima Susumu, Nakao Mie, Sugawara Bunta
Synopsis: In the town of Tsukishima, where the past and present harmoniously coexist,
four 14-year-olds attend Tsukishima Junior High School. The brilliant, cool Jun (Wakaba Ryuya), kindhearted Naoto (Ochiai Motoki) who is battling an illness, moodmaker Dai (Emoto Tokio) and the ordinary Tetsuro (Kadota Shintaro). The four of them mature a little into adults through their pain, love and encounters with people in this town.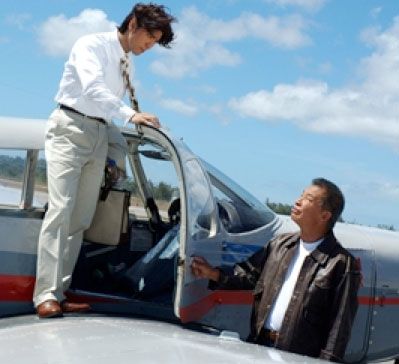 Sokoku
Date: 29 July 2012 (first aired in 2005)
Cast: Kamikawa Takaya, Mako Iwamatsu, Kimura Yoshino, Moriguchi Yoko, Takahashi Mariko, Tanimura Mitsuki, Fukikoshi Mitsuru, Minamida Yoko
Synopsis: Trading company employee, Onodera Ichiro (Kamikawa Takaya), meets a local pilot, Leo (Mako Iwamatsu) on a business trip to one of the southern islands. Three months later, Leo, who has come to Japan to visit Onodera, disappears after saying that he is going to Noto. A kamikaze pilot of the former Japanese Imperial Army, he was captured by the US army during the second world war, but succeeded in escaping and quietly spent the rest of his life on the southern islands. Believing that he is alive, his mother and younger sister patiently continue to wait for his return … …
All text copyright © jdramas.wordpress.com.