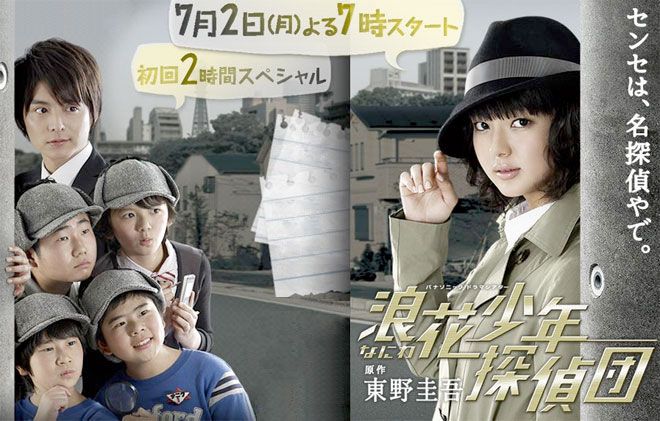 Official Website
www.tbs.co.jp/naniwashounen
Broadcast
Mondays, 8.00 – 8.54 p.m. from 2 July 2012
Station
TBS
Story
Temporary teacher Takenouchi Shinobu arrives as a Oji Elementary School in Osaka at the start of the new school term. When Shinobu makes her first roll call as the form teacher of Class 6/2, vice-principal Nakata Yukio appears to tell her something shocking. Fukushima Fumio, the father of her student, Tomohiro, had been murdered by someone last night. Detectives Urushizaki Susumu and Shindo Shuhei of Osaka Prefectural Police's First Investigative Division are in charge of the case. The victim lived with his wife Yukie, son and daughter. It appears that life was not easy because he had a habit of gambling. Yamada Noriko, who lives in the same apartment block as the Fukushimas, tells the police that she saw Fukushima go out on his bicycle on the night of the incident. Furthermore, he uses violence on his family. When Urushizaki and Shindo interrogate the people around Fukushima, suspects emerge, but everyone has perfect alibis so the investigation gets bogged down … … Meanwhile, Shinobu, who has taken a great interest in the case, listens to an argument about Tomohiro and his father between classmates, and begins her own investigation. During her visit to the Fukushimas' apartment, she is mistaken by Shindo as a "suspicious individual". She shrewdly extracts information on the investigation from him and starts to deduce the real criminal, but … …
Characters
Tabe Mikako as Takeuchi Shinobu
The form teacher of Class 6/2 at Oji Elementary School. A lover of mystery novels, she hates to lose and anything crooked, and has a great deal of curiousity. She is quick with both her mouth and hands. A genius with the tact and observation skills of Sherlock Holmes, she solves difficult cases around her with the sensitivity of a young girl and unmatched powers of deduction.
Koike Teppei as Shindo Shuhei
An detective with Osaka Prefectural Police's First Investigative Division. An honest person with integrity. Although kindhearted, he keeps going in circles at full throttle due to his propensity for misunderstandings. He should be poor with strong-minded females, but for some reason falls in love at first sight with Takenouchi Shinobu.
Yamamoto Koji as Honma Yoshihiko
An elite salaryman who works with Naniwa Oil Refinery, and Takenouchi Shinobu's matchmaking partner. Sparks of love fly with Shindo Shuhei over Shinobu.
Kimura Fumino as Haruna Mika
A cool, smartly dressed music teacher at Oji Elementary School.
Takenouchi Shinobu and her do not get along, and are rivals in school.
Kohinata Fumiyo as Nakata Yukio
The vice principal of Oji Elementary School. Takenouchi Shinobu's former form teacher. He understands her well.
Matsuzaka Keiko as Takenouchi Taeko
Takenouchi Shinobu's mother. A person with a big heart. She arrived at Shinobu's apartment after a domestic quarrel and has been waiting on her daughter. She likes good-looking men.
All text copyright © jdramas.wordpress.com.