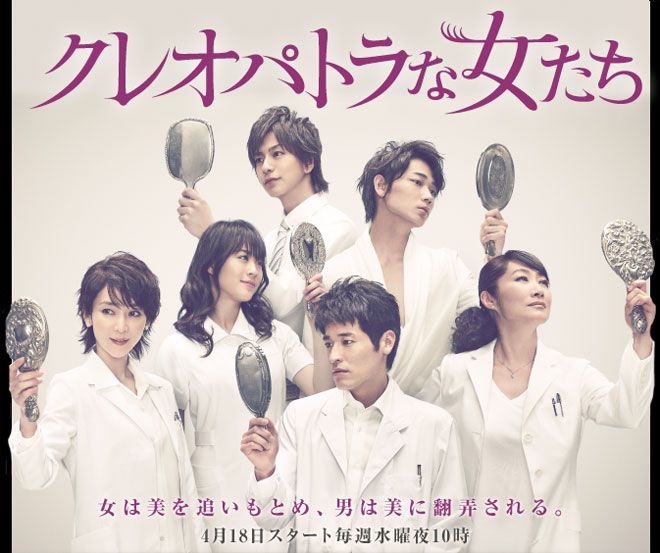 Official Website
www.ntv.co.jp/cleo
Broadcast
Wednesdays, 10.00 – 10.54 p.m. from 18 April 2012
Station
NTV
Story
Kishi Minetaro, a plastic surgeon at a university hospital, switches to Beauty Surgery Clinic which specialises in costmetic surgery. In fact, he is poor with females and regards surgery on a healthy body negatively, but ends up working in this high-paying job to pay off the huge debt that his father, Shintaro, has amassed. On Minetaro's first day at work, he discovers that the staff are all female and most have had cosmetic surgery. They candidly declare after a look at Minetaro's face that he should fix his jaw and this stuns him. He understudies a senior doctor, Ichii Mutsumi. She places him in charge of a patient that wishes to remove a mole, but Minetaro has difficulty handling the patient who leaves in anger. Minetaro is unable to understand why females desire cosmetic surgery. Then a patient called, Hana, visits Beauty Surgery Clinic with the request to return her face to its original looks. She is 62 years old, but appears young because of cosmetic surgery. Bothered by her husband's comment that she will age to the extent that he would not want to see her face, she got a face job. However, after he saw her face post-surgery, he announced divorce because she has become beautiful and it seems that she will cheat on him. Not wanting to split up, Hana is insistent on going back to her original face. Nonetheless, it is impossible. Minetaro, who ends up coaxing Hana and her husband, broaches an unbelievable idea to them as he listens to their story … …
Characters
Sato Ryuta as Kishi Minetaro
A skilled plastic surgeon. He is serious and taciturn, but does all he can for patients. When he was 2 years old, he was abandoned by his mother and raised single-handedly by his father. He simply has not been able to trust women since then. And although he has an interest in the opposite sex, he cannot let his guard down. However, he ends up resigning from a university hospital to work at Beauty Surgery Clinic because he was the joint-guarantor for a loan that his father had taken for a woman. While he regards cosmetic surgery as a respectable medical practice, he is disgusted by the females who tamper with the faces their parents gave to them and despises doctors who earn money from this profession … … and yet he is in it.
Inamori Izumi as Ichii Mutsumi
A skilled cosmetic surgeon and the second-ranking person at Beauty Surgery Clinic. She is called Mu-chan by the director, Yukawa Mari, who has great faith in her, and is hugely popular with patients. However, in her private life, she does not fit in with her husband who is a brain surgeon, and her mother-in-law who is good with housework. She is seen to be the ideal female who works full-time and has a family by the people around her, but is in fact anguished by her circumstances.
Kitano Kii as Kishitani Aoi
The youngest nurse at Beauty Surgery Clinic. Quick-witted, spirited, cheerful and talkative. She is hardworking and loved by her seniors at the clinic, but she was bullied as a child because she was plain-looking and somber. Her life changed after she fixed her eyes and nose, and she even became a positive person. As if to make up for that gloomy past, she has flings with many men now. Her answer is a decisive yes that a person can have a new lease of life by changing the shape of his or her face and body. For this reason, her opinions are always at odds with Kishi Minetaro's.
Miura Shohei as Tomisaka Shoji
An employee at a blood tests company. Beauty Surgery Clinic is one of his account and he comes everyday to pick up the blood samples. To put it simply, he appears flashy. However, he actually cannot read between the lines, is ingratiating and accepts the insecurities peculiar to females. Unlike Kishi Minetaro, he is good at communicating, and is pampered by the females at the clinic. He knows the private details of the staff.
Ayano Go as Kurozaki Yu
A classmate of Kishi Minetaro's since their days at a famous integrated junior high and senior high for boys. He now works for the metropolitan government. A kind-hearted guy who has liked Minetaro since junior high school. But he has never said it. He seems to be an ordinary guy, has no interest in wearing women's clothes and only loves men. He lets Minetaro stay at his house free and feels absurdly happy to be living with him. He takes charge of all the housework, and serves Minetaro like a wie. However, he agonises over Minetaro's failure to reciprocate his feelings.
Yo Kimiko as Yukawa Mari
The director of Beauty Surgery Clinic. A pioneer in Japan and leading authority in breast reconstruction, a medical treatment for patients who have lost their breasts because of breast cancer. There is a six-month wait for consultations. Doctors who handle life and death are not necessarily the only noble ones. After all people will die, so how they live is important. She believes that a patient's quality of life comes first. She is a proud woman who has not lost her beauty with age and lives with dignity.
All text copyright © jdramas.wordpress.com.