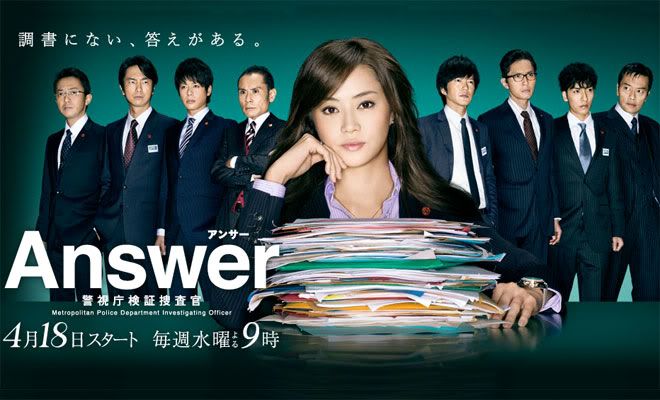 Official Website
www.tv-asahi.co.jp/answer
Broadcast
Wednesdays, 9.00 – 9.54 p.m. from 18 April 2012
Station
TV Asahi
Story
At a police precinct in the suburbs, a wrongful arrest comes to light and a press conference is held for the young female precinct chief, Shinkai Akira, to make an apology. She dutifully reads a prepared statement, but suddenly speaks up to declare that in her personal opinion, a confession was induced. This revelation sparks a controversy among the general public. The head of the First Investigative Division and the chief director express anger to Higashide Yusuke, an official with the commissioner's secretariat in charge of education, who selected Akira to be the precinct chief. They press Higashide not to let her work within the Tokyo Metropolitan Police Department, but Higashide has other ideas. In the end, Akira is transferred to be the director of the First Investigative Division's Evidence Verification Section at the Tokyo Metropolitan Police Department. The Evidence Verification Section has been given the important task of validating cases that have been closed within a limited time – from the moment a suspect is arrested to the time a prosecutor makes formal charges – in order to prevent wrongful convictions from happening as a result of reckless investigators at crime scenes. However, the reality is that its members Usui Shozo, Kogure Shigeo and Hasebe Yoshinobu correct typographical errors and omissions and stamp investigation reports with the words 'verification completed' before sending it over to the prosecutors. They go home at 5.00 pm every day after correcting typographical errors in forwarded reports. This flabbergasts Akira. While Kogure and Usui quickly leave office as they usually do, Akira checks a report on an arson case and drags a reluctant Hasebe with her to the scene of the incident. According to the report, the suspect Kawashima and his wife had divorced because his company was bankrupt. In vexation, he had tried to burn some place, and razed the vacant factory, but an unidentified charred body was discovered inside. It is quickly established that the identity of the dead body is that of Tsukada who had gone missing several days ago. However, Nagatomo Shinichi, the director of the Violent Crimes Section of the First Investigative Division, and his men found no link between Kawashima and Tsukada in their probe and arrested Kawashima on an involuntary manslaughter charge. However, Akira, who has investigated the scene, doubts Kawashima's admission that "anywhere is okay". She gathers her section members and attempts to validate the case. Kogure laughingly dismisses possibility that they will establish proof of Kawashima's intention to kill where the detectives of the First Investigative Division had failed, but is gradually inspired by Akira. They start investigating and are soon steered in an unexpected direction … …
Characters
Mizuki Arisa as Shinkai Akira
A female director in charge of the First Investigative Division's Evidence Verification Section. Rank: Superintendent. She has the looks of a model, sharp insighs and keen observation, and leads the section with a burning desire to solve cases. On the other hand, in contrast to her cold apperance, she is friendly and personable and get close to the emotions of parties involved in the cases. She adored police officers as a child and after graduating at the top of her batch in high school, she entered Tokyo University's faculty of law. She passed the exam for type 1 civil servants while at university and joined the Tokyo Metropolitan Police Department as a career office. After that, she held the post of precinct chief, but was dismissed as a result of an incident, and then assigned to be the director of Evidence Verification Section which was created to prevent wrongful convictions but is a mere facade.
Tanabe Seiichi as Nagatomo Shinichi
A director with the First Investigative Division who brings together the first four unit of the Violent Crimes Section under his strong leadership. Rank: Superintendent. He trusts his subordinates and is a righteous man who places emphasis on conducting investigations as a member of the police organisation. He clashes with Shinkai Akira, who attempts to set out to validate cases which involve the sections under his control, over almost everything, but seriously faces up to the new evidence brought in through Akira's re-examination and does not try to blur facts.
Igarashi Shunji as Hasebe Yoshinobu
Although he has no recollection of the great achievement that gets him transferred from the police precinct to the Tokyo Metropolitan Police Department's First Investigative Division, this unconventional promotion delights him for a brief moment until he realises that is has been assigned to the Evidence Verification Section. He has now become fully accustomed the the work of correcting typographical errors and waits impatiently for the end of each working day. He initially keeps getting pushed around when working alongside Shinkai Akira, but finds joy in participating in his first "investigation" and gradually awakens to the significance of the Evidence Verification Section.
Tachibana Keita as Karasawa Junpei
A detective who has just been assigned from a police precinct to the Violent Crimes Section. He still has some way to go before he becomes a full-fledged detective, and now studies the section's investigations under Nagatomo Shinichi's guidance. It even includes spying on the moves of the Evidence Verification Section which becomes an outlet for Nagatomo's anger as cases are turned inside out by Shinkai Akira. This outrageousness disheartens him.
Matsushige Yutaka as Usui Shozo
Section chief of the Evidence Verification Section. Rank: Inspector. Because he was a police officer who handled a desk job that mainly dealt with general affairs, he became the section chief of the Evidence Verification Section on the strength of his administrative abilities. A man of few words, his knitted brows give him an intimidating air. This appearance makes him stand out within the Evidence Verification Section, but slowly softens with Shinkai Akira's appearance as its director.
Kataoka Tsurutaro as Kogure Shigeo
The oldest member who has worked in the First Investigative Division for 20 years. Rank: Assistant Inspector. He used to be a hot-blooded man who would cut back on his sleep to pursue cases like a hound, but some incident resulted in him leaving the First Violent Crimes Section, the frontline of investigations, for the Evidence Verification Section. He now stays clear of conflicts and is the "symbol of peace" and the person who inspires the members of the Evidence Verification Section. He is skeptical of Shinkai Akira's investigative methods which are too upright, and squirms his way out of her orders.
Endo Kenichi as Higashide Yusuke
An official with the police commisioner's secretariat who holds the position of controlling and training the career police officers who belong the Tokyo Metropolitan Police Department. He recognises that Akira's investigative skills are invaluable and is responsible for the decision to transfer her to the Evidence Verification Section. He watches over Akira who argues over almost everything with the Violent Crimes Section, and sometimes has harsh words for her. Whether it is the Violent Crimes Section or the Evidence Verification Section, he is impartial with the people who work to crack cases.
All text copyright © jdramas.wordpress.com.