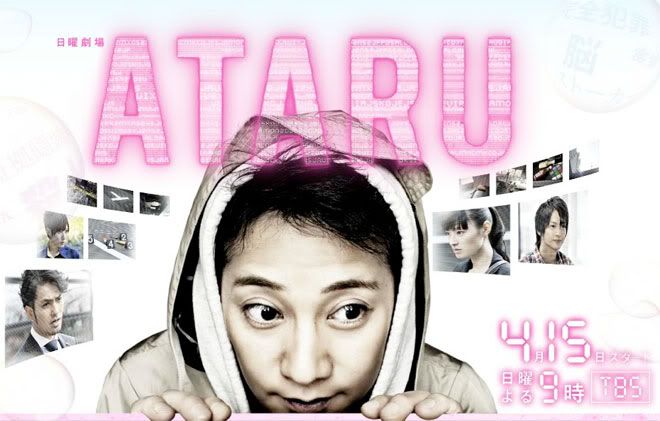 Official Website
www.tbs.co.jp/ATARU
Broadcast
Sundays, 9.00 – 9.54 p.m. from 15 April 2012
Station
TBS
Story
An explosion occurs at a chemical factory and Saiki Yasuo, a long-time employee dies. The First Investigative Division determines that it was an accident that resulted from Saiki's negligence, but Ebina Maiko suspects that it is a criminal case from the circumstances. Unhappy that an investigation task force will not be set up, she corners her superior Sawa Shunichi and the others. While Maiko was examining the scene of the blast, Saiki's wife Kaoru, who is also an employee at the same factory, had told her that her husband would not do such a careless thing. Maiko conveys this and insist on a reinvestigation, but Nozaki decides that it will be classified as an accident and ignores Maiko. A disgruntled Maiko hands in her resignation letter. The section chief Nakatsugawa summons Sawa and instructs him to assume the responsibility of bringing Maiko back. One day, Maiko encounters a mysterious man called Chokozai when she visits the blast scene. He appears to utter a string of nonsensical words, and falls into a slumber down there. Then Maiko returns home and is for some reason met by her father as well as Sawa. Sawa tells Maiko to return to work because she has used up her paid vacation days. However, Maiko seems to disregard those words. She instead shows him an item picked up from the scene and talks about the mysterious Chokozai. They search for the meaning of his words, piece them together and find out something that appears to be facts that they had unexpectedly missed out.
Characters
Nakai Masahiro as Chokozai (Ataru)
A mysterious young man who has difficulty communicating with people but has the special ability to solve every case. Detecting, observing, perceiving and deducing minute evidence related to criminal cases that even the police do not notice, he utters strings of single words connected to solving the cases. He hates changes in schedule and gets frustrated if he cannot do things according to his wish. His daily routine is to watch the drama 'Synchronised Swimming Detective' when it is broadcast at 3.00 pm, and if this is messed up, he will be thrown into great panic. He loves tomato ketchup and honey mustard, and his breakfast is curry soup. Through a strange turn of events, he ends up staying in an apartment owned by Ebina Maiko's father.
Kitamura Kazuki as Sawa Shunichi
Head of Team Sawa of the Twelfth Section, First Investigative Division's Fourth Violent Crimes Unit. Rank: Assistant Inspector. The person who drafted Ebina Maiko to the First Investigative Division. Because he is not the type who is able to push his own views through, he cannot defy the organisation although he is ashamed at his own weakness. He respects Maiko for sticking to her views, empathises with her and becomes her supporter after she resigns from the police. In the past, he had been in charge of her mother's case and feels guilty that it was classified as a suicide. His private life is a mystery, but he appears to be a divorcee.
Kuriyama Chiaki as Ebina Maiko
A detective with Team Sawa of the Twelfth Section, First Investigative Division's Fourth Violent Crimes Unit. Rank: Sergeant. She was drafted by the First Investigative Division as the Tokyo Metropolitan Police's poster girl because she is a beauty. She naturally has television appearances. A photo book and DVD ae also on sale. Unable to turn her back on scenes of non-criminal cases = dumping ground, she clashes with the top brass. Her mother passed away when she was a high school student, and she has been living with her father, a man with diverse interests and cheerful younger brother who is a medical school student. Because she feels uncomfortable about the fact that her mother's case was treated as a suicide, she has an abnormal preoccupation with cases that are not investigated and dead bodies that are not autopsied. She encounters Chokozai while investigating a case after she resigns from the police. The string of single words that he utters guides her in deducing and solving cases.
Shimada Kyusaku as Nakatsugawa Yoji
Head of the Twelfth Section, First Investigative Division's Fourth Violent Crimes Unit. Rank: Inspector. He is stern with Sawa Shunichi, and has no sense of humour.
Chihara Seiji as Nozaki Hasuo
Senior detective with Team Sawa of the Twelfth Section, First Investigative Division's Fourth Violent Crimes Unit. Rank: Assistant Inspector. He writes Ebina Maiko off as the police's poster girl, and makes offensive remarks.
Tanaka Tetsushi as Atsumi Reiji
A liaison officer at the Forensics Division. He and Sawa Shunichi have known each other for years and they joke around each other. A father of four children. His wife also belongs to the Forensics Division, but is now on leave because she is pregnant with their fifth child.
Murakami Hiroaki as Larry Inoue
A Japanese American. FBI agent. He initiates contact in English. A man who knows the very mysterious Chokozai well.
Ichimura Masachika as Chokozai's father
Chokozai's father. He separated from his son 25 years ago.
Related Post:
All text copyright © jdramas.wordpress.com.