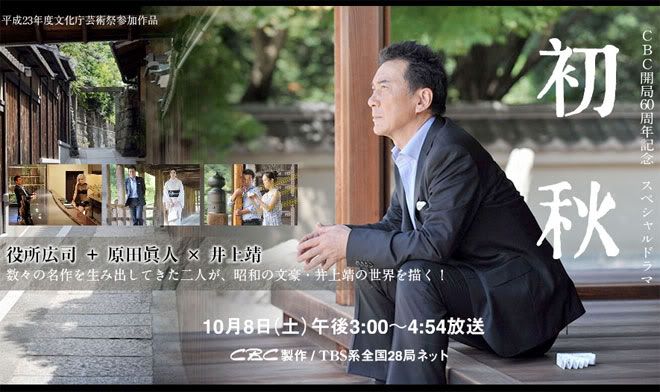 Date: From 3.00 p.m., 8 October 2011
Cast: Yakusho Koji, Nakagoshi Noriko, Denden, Iwamatsu Ryo, Kimura Midoriko, Fujimura Shiho
Synopsis: Matsubara Shinpei (Yakusho Koji) produces and distributes wine in Tateshina, Nagano prefecture. After losing his wife 20 years ago, he singlehandedly raised their only daughter, Asako. Then, Asako gets married and moves to New Zealand. Matsubara is not able to come to terms with the feeling of emptiness when he returns from the wedding. Feeling all alone, he contacts his old university schoolmate, Shigemune Shukichi (Iwamatsu Ryo), who had extended an invitation to him to come to Kyoto if he feels lonely, and heads south. At a Japanese restaurant in the Higashiyama district of Kyoto, Matsubara enjoys a reunion with Shigemune and his high school teacher. Another old friend, Yamabe Kyosuke (Denden) arrives. They get fired up by talk about the good old days, and Matsubara starts to get pleasantly drunk. Then, Yamabe consults him about something. He heard that his daughter, Reiko (Nakagoshi Noriko), has been having a strange parties at an exclusive, fancy club every night. Matsubara announces that he will find out the truth even though he is drunk. The Reiko of Matsubara's memories is a young girl more than 10 years ago. But the Reiko at the club is a beautiful grown woman. Matsubara and Reiko. A dream-like love story is about to start off slowly … …
Website: hicbc.com/tv/early-autumn
All text copyright © jdramas.wordpress.com.