Episode 5: Cake shop's employee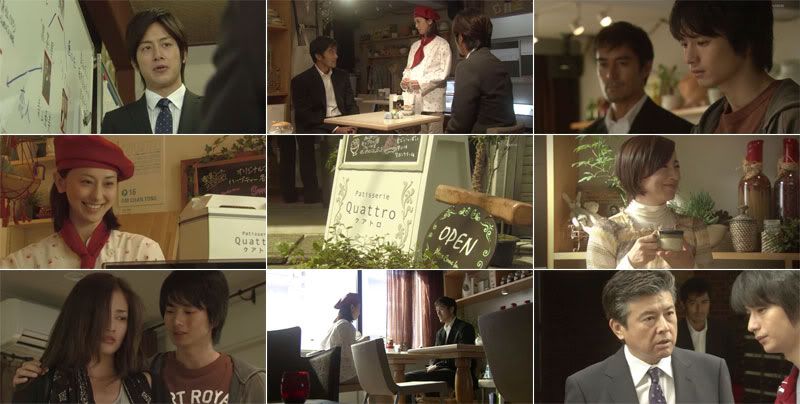 Kaga and Matsumiya learn from Terada Genichi's story that Mitsui Mineko had gone to Suitengu to pray for safe childbirth. Parenting magazines are found in Mineko's apartment and the task force deduces that someone around Mineko is pregnant and that she is particularly concerned about this expectant mother. The task force tries to search for that pregnant woman.
Meanwhile, Kaga goes off to the cake shop 'Quattro' because of a receipt in Mineko's personal belongings. When he checks with Kitamura Miyuki, an employee at the shop, she says that Mineko had visited on the day of her murder but she had gone back without buying anything. Mineko is just a customer to Miyuki and she does not even know her name, but finds it intriguing to catch sight of Mineko smiling tenderly at every moment. Kaga notices something while he is there. It is that Miyuki is pregnant.
In the midst of this, one of Mineko's emails attracts attention. It is an email sent to Fujiwara Machiko, a friend since university days. [After doing a lot of thinking, I've decided to watch over for a while. It may arouse suspicion to go to the shop many times.] What does she mean? Where is the shop? However, Machiko, the key person, still cannot be contacted because she is overseas.
On the other hand, Koki has been chosen to play the lead role in his theatre troupe but is eventually dropped because he cannot concentrate at rehersals. Uesugi comes to visit Koki, and tells him his mother's address. Is it mere coincidence that Mineko's apartment is just around the corner from Koki's? Koki does not know the feelings of his mother whom he has been away from for two years.
Kaga returns to 'Quattro' again with Matsumiya because Miyuki seems to be hiding something. Miyuki had actually received some present from Mineko on the day of the murder. Having no clue of Mineko's good wishes, she had not opened it. Inside the present is the figurine of Suitengu's dog deity which is associated with safe childbirth. What is the relationship between the two of them?
At that moment, Machiko returns from overseas and calls to inform that she is going over to the police precinct. According to Machiko, the shop in question, is the one which she had unexpectedly seen Koki's girlfriend, Ami, enter three months ago. Machiko, who knew that Koki had left home and disappeared, says she had called Mineko to tell her the location of the shop. They immediately get her to draw a map, and it turns out to be 'Kurochaya' which is where Ami is working. However, the owner of 'Kurochaya' has does not recognise Mineko. Kojima gives instructions to call Ami in as a material witness because Ami had communicated with Mineko while she was alive.
Kaga visits Ami's apartment in his capacity as a detective. Ami says she will tell him the sequence of events that led up to the present. Ami had met Mineko at a tea ceremony class, and wanted to know about the family after learning that Mineko was Koki's mother. However, she could not tell Koki. Koki has moved out of Ami's apartment. Kaga tells Ami, who says that she no longer has anything to do with Koki, to find out the truth, in order not to have regrets. He gradually untangles the thread that had entangled Mineko, Koki, Ami and Miyuki …
Kaga summons Koki and Ami to Kodenma-cho in order to unravel the mystery of these relationships. They try to take the path as Machiko had directed, "From the traffic intersection at Kodenma-cho, head towards Ningyo-cho and make a right turn at Sankyo Bank." Ami notices that this is not the way to 'Kurochaya'. In the two-week interval from the time Machiko had caught sight of Koki and Ami, to the time Mineko first visited Kodenma-cho, two branches with the same bank's name were located close together because of a merger. Mineko had been misled by the landmarks and mistook 'Quatro' for 'Kurochaya'.
"I understand the reason for Mitsui-san's laughter," Kaga says and starts to talk about Mineko's true intentions. Mineko was under the impression that Miyuki was Koki's girlfriend. Although she had moved to the neighbourhood, she decided to watch over the pregnant Miyuki without disconcerting her. Mineko had said, "I won't see my son in four months", because she had thought it to be the time that Miyuki would give birth. The dog figurine was for Koki's girlfriend, Ami. Mineko had come to this neighbourhood with thoughts of her son and his girlfriend. Learning about this, Koki decides to go to his mother's apartment to find out about her.
There is a leaflet of the play which Koki should have been the lead actor, in the apartment. "I wish I could should my mum …," Koki says and breaks down crying. Kaga tells Ami, who is staring at Koki, "I believe as her 'life purpose', Mitsui-san was about to make you the beneficiary of her insurance."
The feelings of Mineko, Koki and Ami are untangled by Kaga, and bit by bit, Mineko's true intentions are seen…. However, there are still many mysteries. Who was the person who had called on the day of the murder? Who had betrayed Mineko?
All text copyright © jdramas.wordpress.com.