Episode 1: Japanese rice cracker shop's daughter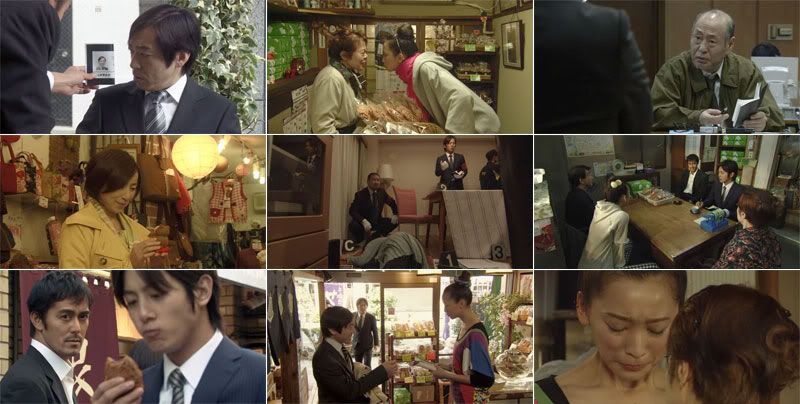 Detective Kaga Kyoichiro is a newcomer who has just been assigned from Nerima Precinct. Soon after taking up his new post, the murder of a woman occurs at an apartment in Kodenma-cho which is under Nihonbashi Precinct's jurisdiction. The victim is Mitsui Mineko and she was strangled to death. She is also another newcomer who has just moved to this neighbourhood.
Ningyoyaki (doll face-shaped confectionery with red bean jam), a button that seems to have fallen off clothes and some man's name card are found from an inspection of the scene in Mineko's room. An investigation task force is headed by Kojima Kazumichi from the Metropolitan Police's First Investigative Division, and Kaga and his cousin Matsumiya Shuhei are partnered off.
First, Kaga and Matsumiya go to meet the man on the name card. He is Takura Shinichi, an insurance salesman in charge of Ningyo-cho.
Takura is called to Nihonbashi Precinct as a person of interest. He says that he had gone to visit Mineko right before she was murdered to explain the insurance policies to her. This was his statement:
・ Left Mitsui Mineko's home at Kodenma-cho at 5.30 pm and headed to Ningyo-cho's Japanese rice cracker shop 'Amakara' run by the Kamikawas in order to process grandmother Satoko's hospitalisation subsidy;
・ Returned to office after obtaining grandmother Satoko's medical report at 'Amakara', and left work at 6.30 pm.
However, Takura's colleague states that Takura had left the office at 6.00 pm. There is a 30-minute gap in the two statements.
Takura has no alibi from 6.00 pm – 6.30 pm, the estimated time of Mineko's murder, and Kaga confronts him. What is Takura trying to hide?
Kaga and Matsumiya immediately go to the Japanese rice cracker shop 'Amakara' to verify Takura's movements. The Kamikawas, who are like family to Takura, come to his defense, "Takura is certainly not the kind of person to be called into question." In order to search for the owner of the button that had been left at the scene, Matsumiya tries to check if it is Takura's coat button. While the granddaughter Naho knows that Takura's button had come off, she covers up for him and quickly lies that the buttons were on the coat that he had worn.
Meanwhile, Kaga meets Aoyama Ami, his junior from the same university tea ceremony club, while lining up with Matsumiya at a Ningyo-cho taiyaki (fish-shaped confectionery with red bean jam) shop which always has queues. Ami, who used to be a newspaper journalist, is now a reporter with the town magazine 'Doll Town' but … seems to be hiding something.
Kaga visits grandmother Satoko again at 'Amakura'. She notes his suspicions about Takura, but his misgivings about her family's honesty makes her angrier.
Then, Naho returns home and senses that 'Amakura' is being monitored from the cafe across the street. It is Kaga. Naho questions him what he is doing.
Kaga tells Naho an interesting fact as he watches passers-by from the cafe. It is the different appearances of the people walking past 'Amakara' on Amazakeyoko-cho. He points out the differences in their attire because of the direction they are walking in despite it being the same street and same season. Those people returning to the business district of Hama-cho after going around visiting customers have taken off their coats, while those people walking in the opposite direction have worn their coats because they are heading home.
At that moment, Matsumiya witnesses Takura's purchase of a new button and determines that Takura is the owner of the button that was left behind at the crime scene. Following Takura, who has gone straight to 'Amakara', Matsumiya asks him to come voluntarily for questioning. Takura resists. Then Kaga appears and proceeds to expose Takura's lie. "Takura-san, you're lying, aren't you?"
Kaga deduces from the fact that Takura was wearing the coat that he was not going back to the office, but had already left the office.
Takura had asked the hospital to make two copies of the medical report. He received the actual document from Satoko's son, Fumitaka, creating the 30 minute gap. Then he had gone back to his company to process the subsidy, and went to the trouble to visit 'Amakara' in order to take the bogus medical report from Naho. This was, in fact, Fumitaka's plan in an attempt to hide Satoko's gallbladder cancer from his daughter. Therefore, Takura is exonerated.
As anticipated, Naho, having learnt the truth about her grandmother's cancer, thinks about giving up her trip to Paris, but eventually decides to go and fulfill her dream because of Satoko's support …
Takura, who has been cleared of suspicion, notes that the person who would have been the beneficiary of the insurance policy that Mineko was intending to take out, should be someone who gives her 'life purpose', even though he does not know who it is.
Who is that person? And who is the suspect who surfaces because of the new evidence found?
All text copyright © jdramas.wordpress.com.