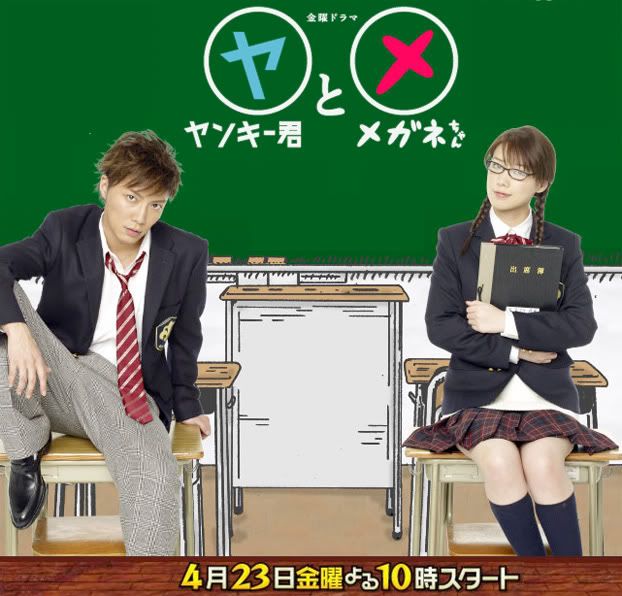 Official Website
www.tbs.co.jp/yanmega
Broadcast
Fridays, 10.00 – 10.54 p.m. from 23 April 2010
Station
TBS
Story
It is the start of the new school term. Shinagawa Daichi of Class 2A is Monshiro High School's biggest delinquent whom everyone fears and keeps at a distance. Because he has no companion, he finds no fun in school life and spends his days alone. However, Daichi encounters a bespectacled girl with her hair in braids and wearing the same school uniform, while going to school. She sprains her leg because she ran into him, and at her insistence, he ends up carrying her to school on his back. Daichi is dumbfounded to come across such a peculiar girl early in the term. He skips class as always, but the bespectacled girl appears before him again. She identifies herself as his classmate, Adachi Hana. Announcing her candidacy in the class election, she presses him to vote her to be the class representative. Daichi reluctantly casts his vote because of her aggressiveness. Hana has a secret. She had been a legendary delinquent who horrified everyone during her junior high school days. However, Hana, who tries to make friends, hides this unsavoury past to lead a life in high school. Then, Daichi learns about this secret …
Characters
Narimiya Hiroki as Shinagawa Daichi
The delinquent who attends Monshiro High School's Class 2A. He has a strong sense of justice, and is at heart, a good guy but because of his awkward personality, he is unable to express it very well. He is good at fights and is often misunderstood by the people around him because they fear him. He cannot see his future and leads a lonely school life but that completely changes as a result of his encounter with Adachi Hana.
Naka Riisa as Adachi Hana
She belongs to the same class as Shinagawa Daichi at Monshiro High School. At a glance, the bespectacled Hana, who wears her hair in braids, looks like a model student but was biggest delinquent during her junior high school days. She is stronger than a boy and is feared by those around her. Because she is a natural airhead, she is unaware of the trouble she causes Daichi and is rather meddlesome.
Hongo Kanata as Izumi Gaku
Like Shinagawa Daichi and Adachi Hana, he belongs to Monshiro High School's class 2A. He wears spectacles and on first glance looks like a cool genius but he actually used to be a delinquent. He for some reason treats Daichi as an enemy.
Suzuki Ryohei as Nerima Seiun
Shinagawa Daichi's childhood friend and best friend. A second year student at Ageha High School, he helps out at his family's bike repair shop. He likes girls but he does not like beauties. He asks Daichi for help when he gets into trouble and trusts him. He also influences and supports Daichi.
Hori Chiemi as Shinagawa Kiyo
Shinagawa Daichi's mother. She is prone to making silly mistakes and is big-hearted. Even though her son is a delinquent, she does not interfere and warmly watches over the family. She thinks that she is the cause of Daichi's bad grades.
Furuta Arata as Shinagawa Chuuta
Shinagawa Daichi's father and a general practitioner. He loves sitting at the dining table with the whole family. He is brusque and inexpressive but he believes in Daichi and lovingly watches over him. Fishing is his hobby.
Ito Shiro as Adachi Tatsuo
Adachi Hana's grandfather. He lives together with his granddaughter Hana and warmly watches over her. He is insolent and enjoys mocking Daichi when he sees him.
All text copyright © jdramas.wordpress.com.