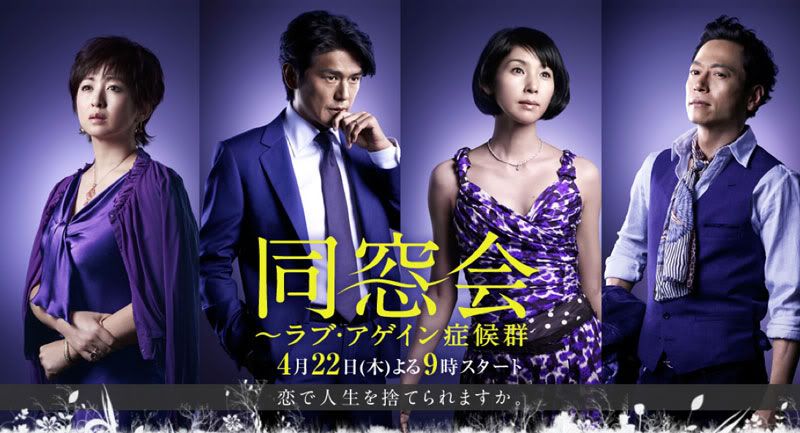 Official Website
www.tv-asahi.co.jp/dousoukai
Broadcast
Thursdays, 9.00 – 9.54 p.m. from 22 April 2010
Station
TV Asahi
Story
Miyazawa Tomomi's husband has been laid off and has not found a job yet. She has sold their home and is in the process of moving to rental housing. In the midst of this, she finds a postcard in the corner of a room. It is an invitation to a class reunion, and the date of the event is that very day. Tomomi, who is sick of her husband who keeps making snide remarks, and their spoiled children, summons the courage to attend the class reunion. She sees Nishikawa Yoko, with whom she had been on close terms, and Sugiyama Kosuke, who she had secretly loved. However, the following day, she hears shocking news that the two of them have disappeared.
Characters
Kuroki Hitomi as Miyazawa Tomomi
She lives at an apartment in Kawasaki City with her jobless husband, daughter who is in third year of junior high school, and son who is a fifth grade elementary school student. In order to earn a living, she works part-time at the staff cafeteria of a university hospital. She had been a cheerleader during her junior high school days and was also popular with guys. At that time, Sugiyama and her were in love with each other.
Takahashi Katsunori as Sugiyama Kosuke
A detective with the Metropolitan Police's Fourth Investigative Division. He lives with his wife and their two children in housing for government workers. Because he is busy at work, he is endlessly criticised by his wife and cannot rebut. However, as a detective, he possesses the strength not to be outdone by the crime syndicate guys.
Mikami Hiroshi as Okubo Shinichi
The copy editor of a weekly magazine issued by a major newspaper. He is a divorcee and is popular with ladies because he is a swinging bachelor and also a capable editor. However, he has a secret that he cannot tell anyone.
Saito Yuki as Nishikawa Yoko
A full-time homemaker who lives in an apartment at Roppongi Hills. She was an A-student during junior high school days and disliked the frivolous Okubo Shinichi. She attended a prestigious university and has been immersed in the sense of superiority of being a successful person after her marriage. However, she is unable to tell anyone that the daughter she is raising was born between her husband and his lover.
All text copyright © jdramas.wordpress.com.