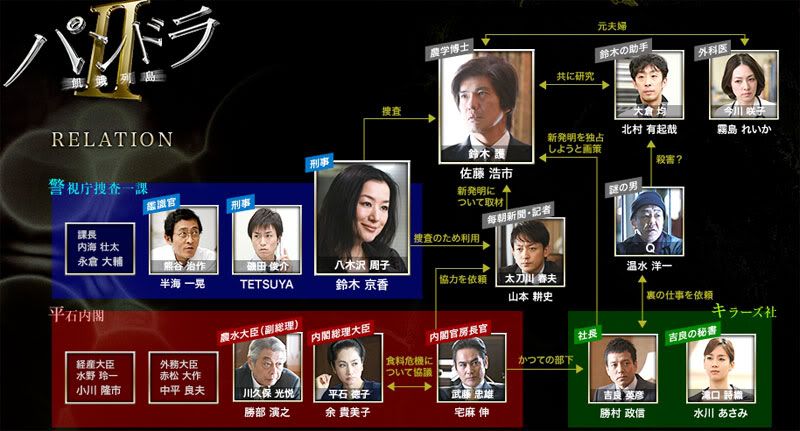 Sato Koichi as Suzuki Mamoru
An agricultural scientist who has successfully developed 'God Corn' which grows at an astounding speed. Abandoned by his mother at the age of 5, he had experienced starvation when he was young.
Suzuki Kyoka as Yagisawa Shuko
A detective with the Metropolitan Police's First Investigative Division. She has used her womanhood as a weapon for career advancement. She harbours doubts about Suzuki Mamoru in her investigation of the case of an abandoned burnt corpse but is snubbed by the people around her.
Katsumura Masanobu as Kira Hidehiko
The president of Kira's Holdings. He schemes to develop 'God Corn' on a global scale, and gets close to Suzuki Mamoru.
Yamamoto Koji as Tachikawa Haruo
A reporter with Maichou Shimbun who returns to Japan after being demoted to an overseas branch office. He gets wind of Japan's food crisis and starts gathering materials.
Takuma Shin as Muto Tadao
The Chief Cabinet Secretary of the Hiraishi cabinet. A former subordinate of Kira Hidehiko, the president of Kira's Holdings. He feels a sense of crisis regarding Japan's food shortage, and aligns himself with Maichou Shimbun's reporter, Tachikawa Haruo. He is an ambitious person.
Yo Kimiko as Hiraishi Yoshiko
The Prime Minister of the current cabinet. She has great pride in being Japan's first female prime minister. She wishes to avoid a food crisis in order to protect herself.
Kitamura Yukiya as Ogura Hitoshi
The devoted assistant of Suzuki Mamoru. He adores Suzuki. He helped in the invention of 'God Corn' but …
Nukumizu Yoichi as Q
A mysterious person. A man with a strong attachment to money, he is undertaking a secret mission at the request of Kira Hidehiko, the president of Kira's Holdings. His nationality and age are not known.
Mizukawa Asami as Takiguchi Shiori
The secretary of Kira Hidehiko, the president of Kira's Holdings. She monitors Suzuki Mamoru under the orders of Kira. Her feelings cannot be read because she is usually expressionless.
Kirishima Reika as Imagawa Sakiko
Suzuki Mamoru's ex-wife. She divorced him after she found a lover, but she also gives Suzuki moral support. She is friends with Yagisawa Shuko.
All text copyright © jdramas.wordpress.com.