Episode 6: Angel? Or demon? The gifted girl's ruse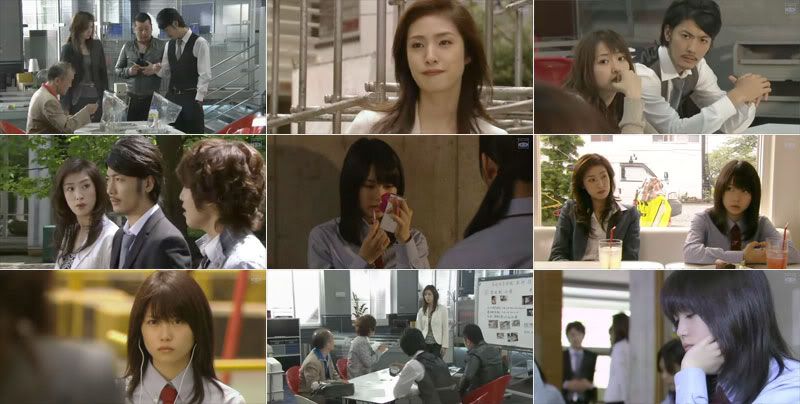 Eriko is put in charge of the murder case of a teacher at Eimei Girls Academy. The deceased is a physical education teacher by the name of Masuoka Tsuyoshi who received a blow to the head. Noticing that no murder weapon had been left at the scene, Eriko deduces that the criminal has a keen mind as well as a well-organised and cohesive personality. She issues investigation instructions to Mami, Yamamura, Katagiri, Hanagata and Iwai and heads to Eimei Girls Academy.
At the entrance of the school, Eriko meets a high school student, Ishihara Yuki, and feels bothered that Yuki perceived that she is a detective in that instant. In the midst of this, Yuki says that she used to date Masuoka and Eriko questions her about her movements on the night of the murder. Yuki tells her that she was in the study room at her cram school but can't prove her alibi. She is the only one of all the persons concerned to be unable to prove her alibi. Eriko gets Nodate's approval and interrogates her.
At the same moment, the murder weapon and other pieces of evidence are found in a garbage bin in the vicinity of Masuoka's residence. Ninomiya Natsuko, a teacher who is Masuoka's colleague, is questioned because her photograph is among those items. Although Natsuko admits that she had been dating Masuoka, she denies killing him.
Reiko reports that she has identified a manicure ingredient that is difficult to obtain in Japan from the dead body. Furthermore, Natsuko's name is found on the list of clients of the imported manicure product. Circumstantial evidence indicates that Natsuko is the murderer but Eriko has a hunch that the real murderer is someone else. At that moment, images from a security camera reveal that Yuki had been at a convenience store near her cram school at Masuoka's estimated time of death, and her alibi is proven.
Meanwhile, the team learns that a bicycle had grazed against a taxi in front of Masuoka's apartment building at his estimated time of death. The person who rode that bicycle is Yuki's good friend, Sakai Saori. When Hanagata and the others investigate, they learn that Saori had also dated Masuoka.
Eriko meets Yuki and asks Saori to take a polygraph lie detector test for the investigation but Yuki tells her that Saori isn't the murderer and asks what is happening with Natsuko. Eriko says it is impossible that the murderer would dump evidence near the scene when the murder had been perfectly disguised. Moreover, it is hard to imagine that Natsuko, who belongs to the same Toyosu Sports Club as her, is the murderer. Masuoka's diary and mobile phone are also missing from the pieces of evidence, Eriko adds.
Later, Saori arrives to take the polygraph accompanied by Yuki. She enters the interrogation room and Mami asks her questions related to the case. Yuki watches her from an adjoining room. Then she suddenly raises her voice and says the camera in the interrogation room is filming her. Yuki is angry about the infrared monitor which can determine her degree of tension by measuring the temperature and contraction of the blood capillaries on her face. She also notices the camera which can detect signs of nervousness from the contraction of her pupils. Why do they suspect her when she has an alibi? Yuki won't calm down. Nodate says that there is a margin of error of one hour for Masuoka's estimated time of death and therefore a possibility that she could have committed the murder too.
Several days later, Eriko confronts Yuki for the final interrogation and starts to talk about her conjecture …
Yuki received a call from Saori, who said she had killed or seriously injured Masuoka, and came to the apartment to cover up Saori's actions. Masuoka was near death and at that moment, he regained consciousness. Seeing that, Yuki struck him in the head with the award that he had just received and killed him. After that, she had kept Masuoka's dead body warm using a plastic bottle filled with warm water in order to deceive the police about his estimated time of death. She also sprinkled bleach containing enzymes on the dead body to eliminate traces of perspiration and saliva. However, because of the time lag when she sprinkled the second round, a different concentration of bleach became mixed with the bloodstains, and because of that they realised that there was old and new blood, Eriko says.
Then she analyses that Yuki's motive for murder was because she felt slighted. Yuki noticed that the two photographs in Masuoka's room which had been taken with Natsuko were at the same place where she had once had a date with him. Seeing that, she had probably been indignant that her date with him had been a prelude to Natsuko's.
Yuki doesn't lose her composure despite hearing that and says it is just circumstantial evidence. Eriko shows Masuoka's diary to Yuki and says it had come from Natsuko's sports club locker. Yuki excitedly says that is what she calls concrete evidence and Eriko tells her the diary had actually been found in her own locker. Yuki is astonished. Eriko reveals that she belongs to the same club as Natsuko but she goes to the Toyosu branch while Natsuko goes to the Minamisuna branch. However, when she spoke to Yuki, she had told her that they both belonged to the Toyosu branch. Eriko pasted a label over her name on her locker to disguise it as Natsuko's. Then, someone put Masuoka's diary inside the locker, she says, even though she had told no one about the sports club besides Yuki … Eriko watches Yuki's expression.
A resigned Yuki finally admits to the murder. She says that on the day she received the call from Saori, she had found Masuoka's diary in his room. In the diary, he had written about other girls but had written nothing at all about her and she couldn't forgive him for that.
That night, Eriko drinks with Hiroshi. He speaks to her but she seems to be lost in thought and miles away … …
Related Posts:
All text copyright © jdramas.wordpress.com.